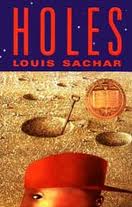 Holes is a book written by Louis Sachar. It was adapted into a film by Disney
Book
This was originally a book. It was written in 1998 by Louis Sachar. It was produced by Yearling. It won the following awards:
Newberry Medal
National Book Award
Boston Globe- Horn Book Award
ALA Best Book for Young Adults
ALA Notable Book
ALA Quick Pick
Christopher Award for Juvenile Fiction
New York Times Book Review Notable Childrens Book of the Year
A Horn Book Fanfare
Publishers Weekly Book of the Year
Bulletin Blue Ribbon Book
School Library Journal Best Book of the Year
It was dedicated "To Sherre, Jessica, Lori, Kathleen, and Emily and to Judy Allen, a fifth-grade teacher from whom we all can learn."
Movie
The book was adapted into a movie in 2003 with Shia LaBeouf starring as Stanley. Louis Sachar actually took part in the creation of the script for the movie, which is why the book and movie are similar.
Ad blocker interference detected!
Wikia is a free-to-use site that makes money from advertising. We have a modified experience for viewers using ad blockers

Wikia is not accessible if you've made further modifications. Remove the custom ad blocker rule(s) and the page will load as expected.