"Trout didn't want to learn. He seemed to be proud of his stupidity."
―Louis Sachar on Trout's intelligence.
Charles "Trout" Walker


Vital statistics
Title
Charles "Trout" Walker
Actor
Scott Plank
Family
Linda Walker - Wife
The Warden - Granddaughter
Gender
Male
Race
Caucasian-American
Status
Deceased
Cause of Death
Old age (Assumed)
Location
Unknown
Gallery
Trout Walker Gallery
Charles "Trout" Walker was a man living in Green Lake, Texas. He was spoiled and cruel, and he was constantly making ignorant remarks. He had a very low knowledge in romance, and even worse when it came to his education. Trout stunk a lot, and it was made very clear in the books that he took a bath every Sunday morning, whether he 'needed it' or not. It was also evident that he didn't have very good knowledge of when you need to bathe. In the movie, his real name or the reason for his nickname are never mentioned.
Green Lake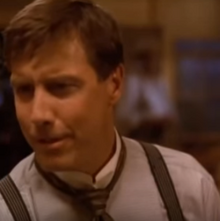 Trout was the son of the owner of the lake in Green Lake, Texas (He bragged about this countless times). He was a bigoted and self centered man. He was also a racist person. (this was expressed multiple times around Sam). Trout ended up marrying Linda Walker(formely Linda Miller), one of Kissin' Kate Barlow (Katherine Barlow)'s former students. He was The Warden (Louise Walker)'s paternal grandfather.
Katherine Barlow
Trout wanted to be involved with Katherine (Kate) Barlow. However, she told him that she had no interest in him. When Trout saw her kissing Sam, the black-skinned onion farmer, he was infuriated. He personally shot Sam and Sam's donkey, Mary Lou in his rage. But in the book Hattie Parker saw them.
After Lake Dried Up
After Sam was murdered, it never rained again and eventually the lake dried up. This caused Trout to lose all his money. When Kate Barlow returned to bury her loot, he threatened her with his wife Linda to try to find her loot. However, Kate committed suicide by making a Yellow-Spotted lizard bite her on the arm. This made it impossible for Trout and his descendants to find the loot which made him go mad to let himself and his granddaughter, The Warden dig up holes everyday.
Ad blocker interference detected!
Wikia is a free-to-use site that makes money from advertising. We have a modified experience for viewers using ad blockers

Wikia is not accessible if you've made further modifications. Remove the custom ad blocker rule(s) and the page will load as expected.